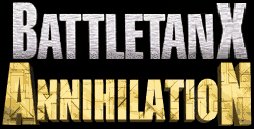 BattleTanx Annihilation is a pack that features the tanks and other stuff from BattleTanx: Global Assault from the PSX and N64.
Status
:
Version 1 is here!
Battletanx TA requires TA: The Core Contingency and TA version 3.1. It will not work without them, and WP will not supply players with CC since TA and its expansions are not freeware.
Download
: -
Please remember to read the readme for installation notes and credits
1.0 - OTA Version
- 6.68 MB
1.0 - TA:Mutation Version
- 6.68 MB
Notes/Known Bugs
:
Currently, the stars are kind of awkward to reclaim. It can be done, but it's almost like reclaiming wreckage from a ship underwater in OTA. I don't know what's causing this, to be honest.
The hover tank and FLP-E have odd occasionally graphical errors involving wakes and flames. It seems to be random, and again, I really have no idea what causes it.
AI still isn't working.
The armory arm doesn't rotate anymore, so you can only build one pickup item at a time rather than 6 at a time like before. I have no idea what went wrong there, it's exactly the same as it was 2.5 years ago.
If you find any unlisted bugs or have comments on the mod, please send an email to
Gnome
.
Screenshots
: - These are old, but the models haven't changed too much. New screenshots one day soon.
A family shot. Whoops, forgot the Mototank in there...
A FLP-E tank doing what it does best: Flip!
A Marksman showing off its high power laser.
We all live on a nuclear submarine, a nuclear submarine...
More coming soon.